Module 5

Univariate EDA
5.1

Quantitative Variable

A univariate Exploratory Data Analysis (EDA) for a quantitative variable is concerned with describing the distribution of values for that variable; i.e., describing what values occurred and how often those values occurred. Specifically, the distribution is described with these four attributes:
shape of the distribution,
presence of outliers,
center of the distribution, and
dispersion of the distribution.
Graphs are used to identify shape and the presence of outliers and to get a general feel for center and dispersion. Numerical summaries, however, are used to specifically describe center and dispersion of the variable. Computing and constructing the required numerical and graphical summaries was described in Module 4. Those summaries are interpreted here to provide an overall description of the distribution of the quantitative variable.
The same two data sets used in Module 4 are used here.
5.2

Categorical Variable

An appropriate EDA for a categorical variable consists of identifying the major characteristics among the categories. Shape, center, dispersion, and outliers are NOT described for categorical data because the data is not numerical and, if nominal, no order exists. In general, the major characteristics of the table or graph are described from an intuitive basis; the numerical values in the graph or table are not simply repeated.

Do NOT describe shape, center, dispersion, and outliers for a categorical variable.
5.2.1

Example Interpretations
5.2.1.1

Mixture Seed Count
A bag of seeds was purchased for seeding a recently constructed wetland. The purchaser wanted to determine if the percentage of seeds in four broad categories – "grasses," "sedges," "wildflowers," and "legumes" – was similar to what the seed manufacturer advertised. The purchaser examined a 0.25-lb sample of seeds from the bag and displayed the results in Figure 5.10. Use these results to describe the distribution of seed counts into the four broad categories.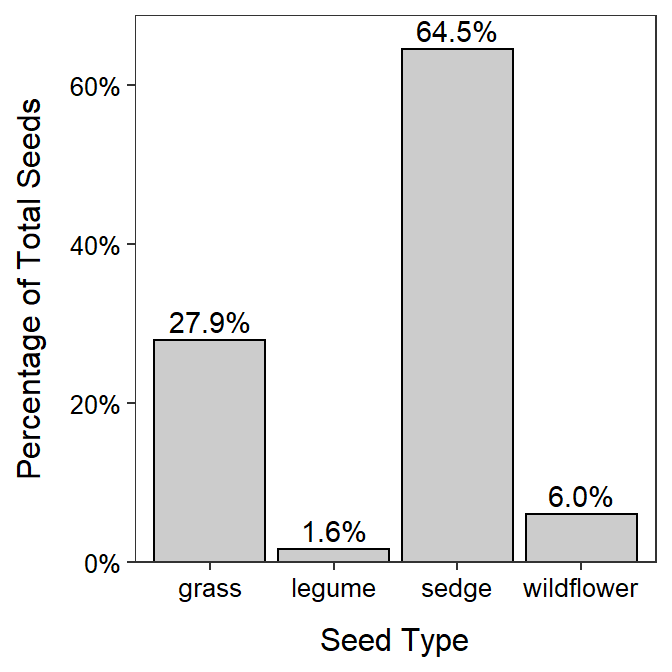 The majority of seeds were either sedge or grass, with sedge being more than twice as abundant as grass (Figure 5.10). Very few legumes or wildflowers were found in the sample.
5.2.1.2

GSS Recycling
The General Sociological Survey (GSS) is a very large survey that has been administered 25 times since 1972. The purpose of the GSS is to gather data on contemporary American society in order to monitor and explain trends in attitudes, behaviors, and attributes. One question that was asked in a recent GSS was "How often do you make a special effort to sort glass or cans or plastic or papers and so on for recycling?" The results are displayed in Figure 5.11 and Table 5.4. Use these results to describe the distribution of answers to the question.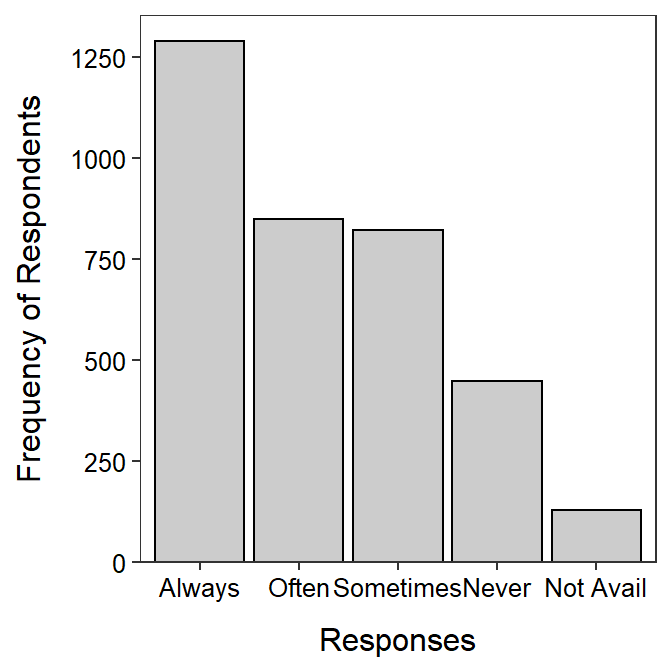 Table 5.4:

Frequency of respondents by response to the question about recycling.

| Always | Often | Sometimes | Never | Not Avail |
| --- | --- | --- | --- | --- |
| 1289 | 850 | 823 | 448 | 129 |
More than twice as many respondents always recycled compared to never recycled, with approximately equal numbers in between that often or sometimes recycled.
---
Some people use "negatively skewed" instead of "left-skewed" and "positively skewed" instead of "right-skewed." When using these think that "left" means more towards "negaive" values and "right" means more towards "positive" values.↩︎