Module 28

t-Tests in R

In Modules 18 and 19 you learned the theory and how to perform the calculations required to complete the 11 steps of a hypothesis test (Section 17.1) for 1- and 2-sample t-tests. In this module, you will learn how to perform the required calculations from raw data using R.109
28.1

1-Sample t-Test
28.1.1

1-Sample t-Test in R

If raw data exist, the calculations for a 1-Sample t-test can be efficiently computed with t.test(). t.test() requires a formula of the form ~qvar, where qvar is the quantitative variable, as the first argument; the corresponding data frame in data=; the null hypothesized value for μ in mu=; the type of alternative hypothesis in alt= (can be alt="two.sided" (the default), alt="less", or alt="greater"); and the level of confidence as a proportion in conf.level= (defaults to 0.95). If the sample size is less than 40 then you may also need to construct a histogram as described in Section 25.1.2 to assess the shape of the distribution.
28.1.2

Example - Crab Body Temperature

Below are the 11 steps for completing a full hypothesis test (Section 17.1) for the following situation:
A marine biologist wants to determine if the body temperature of crabs exposed to ambient air temperature is different than the ambient air temperature. The biologist exposed a sample of 25 crabs to an air temperature of 24.3oC for several minutes and then measured the body temperature of each crab (shown below). Test the biologist's question at the 5% level.
22.9,22.9,23.3,23.5,23.9,23.9,24.0,24.3,24.5,24.6,24.6,24.8,24.8,
25.1,25.4,25.4,25.5,25.5,25.8,26.1,26.2,26.3,27.0,27.3,28.1
Note that these data were entered into a data frame called CrabTemps.csv as discussed in Section 23.1.1 and that the R code used for this example is shown in the "R Code and Results" subsection below the 11 steps.
α = 0.05.
H0: μ = 24.3oC vs. HA: μ ≠ 24.3oC, where μ is the mean body temperature of ALL crabs.
A 1-Sample t-Test is required because …

a quantitative variable (temperature) was measured,
individuals from one group (or population) were considered (an ill-defined population of crabs), and
σ is UNknown.

The data appear to be part of an experimental study (the temperature was controlled) with no suggestion of random selection of individuals.
The assumptions are met because

n = 25 ≥ 15 and the sample distribution of crab temperatures appears to be only slightly right-skewed (Figure 28.1) and
σ is UNknown.

x̄ = 25.0oC (Table 28.1).
t = 2.713 with 24 df (Table 28.1).
p-value = 0.0121 (Table 28.1).
Reject H0 because the p-value < α.
It appears that the average body temperature of ALL crabs is greater than the ambient temperature of 24.3oC.
I am 95% confident that the mean body temperature of ALL crabs is between 24.5oC and 25.6oC (Table 28.1).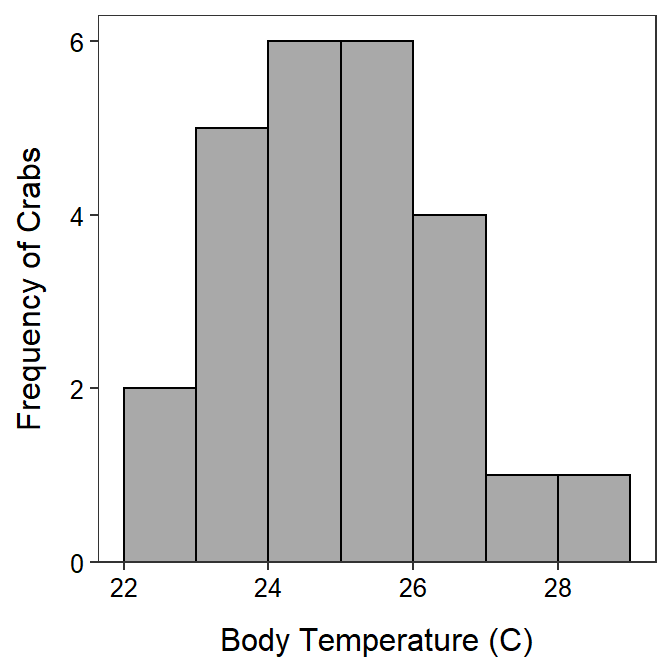 Table 28.1:

Results from 1-Sample t-Test for body temperature of crabs.
t = 2.7128, df = 24, p-value = 0.01215
95 percent confidence interval:
24.47413 25.58187
sample estimates:
mean of x
25.028
R Appendix:
<-

 

read.csv

(

"CrabTemps.csv"

)
 df 

ggplot

(

data=

df,

mapping=

aes

(

x=

ct)) 

+




geom_histogram

(

boundary=

0

,

binwidth=

1

,

color=

"black"

,

fill=

"darkgray"

) 

+


   

labs

(

y=

"Frequency of Crabs"

,

x=

"Body Temperature (C)"

) 

+


   

scale_y_continuous

(

expand=

expansion

(

mult=

c

(

0

,

0.05

))) 

+


   

theme_NCStats

()
   

<-

 

t.test

(

~

ct,

data=

df,

mu=

24.3

,

conf.level=

0.95

) )( ct.t 
28.2

2-Sample t-Test

In Module 19 you learned about the theory underlying a 2-sample t-test and how to perform the calculations required to complete the 11 steps of a hypothesis test (Section 17.1). In this module, you will learn how to perform the required calculations from raw data using R. You will also be asked to complete the full 11-steps for a 2-sample t-test.
28.3

Generic R Code

The following generic codes were used in this module and are provided here so that you can efficiently copy and paste them into your assignment. Note the following:
dfobj should be replaced with the name of your data frame.
qvar should be replaced with the name of your quantitative variable.
cvar should be replaced with the name of your categorical variable.
mu0 is the population mean in H0.
HA is replaced with "two.sided" for not equals, "less" for less than, or "greater" for greater than alternative hypotheses (HA).
cnfval is the confidence level as a proportion (e.g., 0.95).
Also examine the "R Function Guide" on the class Resources page for more guidance.
1-Sample t-Test
t.test(~qvar,data=dfobj,mu=mu0,alt=HA,conf.level=cnfval)
2-Sample t-test
Construct a Levene's Test
levenesTest(qvar~cvar,data=dfobj)
Construct a 2-Sample t-Test
t.test(qvar~cvar,data=dfobj,alt=HA,conf.level=cnfval,var.equal=TRUE)