Are two variables related?
Does the mean differ among groups?
Can I develop a useful model for making predictions
What you learn in this
Biometry
class will help you answer these questions.
---
Syllabus Contents
---
Catalog Description
Linear models including one- and two-way ANOVA with post-hoc multiple comparisons and transformations, simple and multiple linear regression including transformations and indicator variables, and logistic regression; and basic principles of sample and experimental design. The theoretical constructs of all topics will be developed and applied to real-life or realistic situations in the life and natural sciences. Prerequisite: MTH107. 4 Credits.
Learning Outcomes
At the end of this class you will be able to …
explain why statistics is central to scientific inquiry (& your field of interest);
perform, including assumption checks, and interpret the results from one-way and two-way analysis of variances;
perform appropriate multiple comparisons following a significant analysis of variance result;
perform, including assumption checks, and interpret the results from simple and indicator variable regressions;
perform, including assumption checks, and interpret the results from simple logistic regression;
use variable transformations and interaction terms where appropriate,
compare and contrast the advantages and limitations of one-factor and two-factor experimental designs; and
write a concise, detailed, accurate, and interesting paper explaining the design and interpreting the results of a statistical analysis.
Assistance
A variety of opportunities for out-of-class assistance and in-class accommodations are provided. Please read about these opportunities below and use them throughout the semester as appropriate. Here are some quotes about asking for help (from BurnishedChaos.com).
Never apologise for asking for what you need, if you don't ask - the answer will always be no. - Rachel Wolchin
Asking for other's guidance helps you see what you may not be able to see. It's always important to check your ego and ask for help. - Ken Blanchard
The only mistake you can make is not asking for help. - Sandeep Jauhar
You don't have to do it all by yourself. - Elizabeth Dehn
Sometimes the only answer people are looking for when they ask for help is that they won't have to face the problem alone. - Mark Amend
I think the hardest part to get to is asking for help or reaching out to other people and being honest with yourself. - Mary-Kate Olsen
As a general rule-of-thumb1, you are expected to spend 2-3 hours of time outside of class for each hour in class. This course meets for 4.5 hours per week and, thus, you should dedicate between 9 and 13.5 hours of time outside of class preparing for class, completing review and class exercises, and studying for exams. The work required for this course can be completed within this expected amount of time, if that time is without distraction. If you feel that you are spending an inordinate amount of time on some exercises or preparations because you are "stuck," then start your work earlier so that you can stop (and do other things) and make plans to see me or the tutors for help.
Instructor – Derek Ogle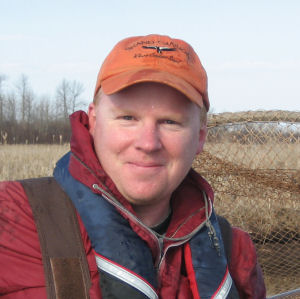 I am committed to your doing well in this course and see it as my responsibility to help you as much as possible both in and out of the designated class period. Thus, you may call (715-682-1300), e-mail (dogle@northland.edu)2, or visit me in my office (CSE228) for help. I will make every effort to be available during office hours from 1230-230 on Monday, Wednesday, and Friday. I will also be available any time that my door is open. Finally, you may also send me anonymous feedback, suggestions, or questions. Please don't hesitate to see or contact me if you have any questions regarding this course.
Tutor
We are fortunate to have Emily Mader serve as a tutor for Biometry this year. Emily is a mathematics major and physics minor who took this course last year. Thus, she is very familiar with the content and organization of this course. Emily also participated last summer in a research experience related to statistics. Emily will be available to tutor Biometry on Thursday 3-5p in CSE236 or CSE229. In addition, she may be able to help during her times scheduled to tutor Introductory Statistics and Mathematics (see here and tutor hours posted around the building). In addition to her tutor hours, please don't forget my availability as described above.
Accommodations
I want to create an inclusive and accessible learning environment for those of you that have a condition that may require special accommodations (e.g., attention, learning, vision, hearing, mental, physical, or other health-related concern). If you have already established accommodations with the Office of Accessibility Resources (OAR), please communicate your approved accommodations to me as soon as possible so that we can discuss your needs in this course. If you have a condition that requires accommodations but you have not yet established services through OAR, then you should contact Jennifer Newago as soon as possible (Ponzio 230, x1387, or accommodations@northland.edu). Reasonable accommodations are established through an interactive process between you, me, and OAR. It is the policy and practice of Northland College to create inclusive and accessible learning environments consistent with federal and state law. More information is available here.
Academic Alerts
As you adjust to the rigors of college life, you may struggle a bit in your classes and benefit from working with a professional on your organization, motivation, and stress level. If I observe that you are struggling with this course early in the semester then I may file an "Academic Alert" about you. If this happens, you will receive an e-mail from me that explains steps that you can take to improve your performance in the class. We can certainly also meet to further discuss these steps. In addition, our Academic Success Coordinator, Gina Kirsten, will receive the alert and will likely reach out to you to set up a time to further discuss ways to improve in the class. Academic Alerts are not punitive, they are simply an attempt to help you get back on track in this class as soon as possible.
---
Grading
You will have several opportunities, each described below, to show what you have learned in this course. An overall grade will be computed from these items as shown in the Overall Grade section further below.
Quizzes
Six one-hour quizzes will be given on the approximate dates shown on the Dates page. Make-up quizzes will be provided only if you have a fixed commitment of sufficient importance that was set before the beginning of the semester or a verifiable medical condition. You will not be allowed to take a missed quiz without my prior approval. The final quiz will not be given early. Your two highest quiz grades will be "worth more" and your two lowest quiz grades will be "worth less" in your final grade (see grading table).
Homework
Several homework assignments will be assigned per module. PRINTED homework assignments are due at the beginning of the class period on the assigned due date (announced in class and on the Dates page). Assignments not handed in at the beginning of the class period will be considered late. Late assignments will not be accepted. If you meet with me in my office before the end of the second week of class, the lowest approximately 20% of homework grades will be excluded when computing your overall grade.
Each homework assignment is worth 10 points and will be graded in two parts. The first part is an assessment of completeness and formatting (each assignment should follow the expectations outlined here) according to the following rubric.
| 0-1 points | 2-4 points | 5 points |
| --- | --- | --- |
| Very few questions answered completely OR homework format largely not followed. | Most questions answered completely AND homework format largely followed. | All questions answered completely AND homework format followed exactly. |
The second part, also worth 5 points, is an assessment of the quality of the work. In this part, only some (approximately half) of the questions will be assessed. Answer keys will be posted online so that you may check your work.
I am fine with you working together on assignments; however, I will not tolerate simply copying someone else's answer. If you work together, than actually work together to solve the problem.
Portfolio
The portfolio will consist of an analysis using four of the major course topics (one-way ANOVA, two-way ANOVA, simple linear regression, indicator variable regression, logistic regression) of real data of interest to you that you have collected. The data may come from your original research or collection, an online data repository or other reputable internet source (examples here), any other reliable source, or extracted from a figure (example here) or table. You MAY NOT use data provided to you by another professor, agency, or employer (some exceptions may be made to this rule BUT you MUST clear it with me BEFORE contacting them). You MAY NOT use data from a textbook. The data must be able to be appropriately analyzed by one of the main topics learned in class and the one-way ANOVA cannot be a subset of the two-way ANOVA and the simple linear regression cannot be a subset of the indicator variable regression.
You must submit an initial proposal to me (see Dates page) that briefly describes the data that you will use (including your source for the data), the questions to be asked or hypotheses to be tested with the data, the response and explanatory variables, the types (i.e., quantitative or categorical) of those variable(s), which topic you will use to answer the questions or test the hypotheses, and why you will use that topic. Please follow the format shown in this example proposal. The initial proposal is worth an all-or-nothing 10% of the overall grade for the portfolio. I strongly urge you to discuss your proposal with me before turning it in.
For the final portfolio paper, you will write a report for each data set/topic with the following sections:
Introduction: thoroughly describe background information needed to understand the data, why the data are important, why you are interested in the data, what the objectives of the study were (i.e., the research and statistical hypotheses), and what you expect to see and why.
Data Collection Methods: thoroughly describe the methodology you (or the authors) used to collect and you used to analyze the data. Specifically note your sample size, possibly by groups if appropriate.
Data Analysis Methods: describe which test you used to examine your hypothesis, discuss any follow-up tests (e.g., multiple comparisons), and declare your rejection level.
Assumptions: describe all assumption checking and, if necessary, data transformations (you must both demonstrate that a transformation is needed and that it accomplished meeting the assumptions).
Results: describe the results of your analysis.

For one-way ANOVA … provide an omnibus test, multiple comparisons results, specific interpretation of differences if they exist, and an appropriate plot that demonstrates your results. Back-transform results as appropriate.
For two-way ANOVA … provide an omnibus test or tests, multiple comparisons results, specific interpretation of differences if they exist, and an appropriate plot that demonstrates your results. Back-transform results as appropriate.
For simple linear regression … provide an omnibus test, specific interpretation of the slope, an appropriate prediction (with interpretation), and an appropriate plot that demonstrates your results. Back-transform results as appropriate.
For indicator variable regression … provide an omnibus test or tests, specific interpretation of differences in slopes and intercepts, specific interpretation of slopes and intercepts, predictions (with interpretations) that demonstrate your results, and an appropriate plot that demonstrates your results. Back-transform results as appropriate.
For logistic regression … provide an omnibus test, specific interpretation of the slope and back-transformed slope; predictions (with interpretations) of log(odds), odds, and probabilities; and an appropriate plot that demonstrates your results.

Discussion: describe how what you found relates to your objectives and hypotheses (and reasoning) from the introduction. Suggest where further research in this area should go from here.
Works cited: list of references (if any) used to support your project.
The full examples in each module reading provide excellent examples for how each analysis in your portfolio may look.
It is possible that all four analyses can be conducted from the same large data set. Thus, it is possible to have a single introduction and single data collection methods section, but separate data analysis methods, assumption checking, results, and discussion sections. Alternatively, if different data sets are used for each topic, then separate introduction, data collection methods, data analysis methods, assumption checking, results, and discussion sections will be required. The final portfolio should be typed, grammatically correct, and refer to supporting figures and tables. The due date for the final portfolio is shown on the Dates page.
Overall Grade
An overall percentage score will be computed from the items and associated weights listed in the table below. To compute your current grade, enter your percentage scores in the boxes for assessments that have been completed. To project your future grade, also include percentages for future assessments. Put highest two quiz grades in "Q1" and "Q2" and lowest two quiz grades in "Q5" and "Q6". [It is your responsibility to track your scores on the individual assessments.]
Lowest possible final letter grades will be assigned by comparing your overall percentage score (rounded to a whole number) to the values shown below:
| | | |
| --- | --- | --- |
| | A 92-100 | A- 90-91 |
| B+ 87-89 | B 82-86 | B- 80-81 |
| C+ 77-79 | C 70-76 | |
| D+ 67-69 | D 60-66 | F 0-59 |
An incomplete grade will be given ONLY under extreme circumstances beyond your control, such as a major illness, and will ONLY be given if you have successfully completed the entire course except for the final exam. This is in accordance with Northland College policy (scroll down to "Incomplete Grades").
Note About Midterm Grades
I will submit a "midterm grade" for you approximately half-way through the semester. At that time I will submit the "worst possible" letter grade that I can for your midterm grade. I do this for two reasons. First, I believe that it is better to know the worst rather than the best-case scenario at that point of the semester. Second, you will have completed only about 1/3rd of the graded items by that point of the semester. If your midterm grade is lower than you would like, you will have ample opportunity to improve it. Of course, see me if you have questions about how you can do that.
---
Classroom Conduct and Academic Integrity
My intent is to create a classroom environment where solid learning of Statistics can occur. One part of this environment is a well-organized course structure built upon relevant learning resources and interesting realistic exercises. Another part is my availability to assist you in learning from these resources and exercises. A third part in creating that environment is your conduct within it. My expectations of you are that you will fully participate in the course (see above) and be respectful of all others in the class. At a minimum, I expect you to adhere to the following behaviors:
Please arrive to class on time. If you arrive late, then take the first available seat as quietly as possible. If you need to leave early, then please sit near the exit.
Please attend the entire class period. Leaving class early defeats the purpose of the class period, does not take advantage of resources (i.e., the professor) that can significantly help your learning, and does not build statistical stamina. Please take care of your personal needs (e.g., using the restroom) before class so that you can stay focused for the entire class period.
Please turn your computer on immediately so that you can promptly begin the daily preparation check.
Please limit computer use to class work.
Please do not use your own computer during class unless you clear it with me at the beginning of the semester.
Please turn off and store out-of-sight cell phones and other electronic devices.
Please do not listen to music (or otherwise wear ear buds) during class.
Please do not engage in side discussions while I or others are speaking to the entire class.
Please do not sleep in class – this behavior is rude and distracting to others (especially the professor).
Please do not use disrespectful language when addressing others.
Finally, note that the College's Academic Integrity Statement & Policy will be followed in this course. Please make sure that you are familiar with its content.
---
Footnotes
General advice for how much time should be spent outside of class for each hour inside of class can be found, among many, here, here, here, and here. ↩