Broadway Cave & Monument Canyon Mine
On February 22, 2023 Kim and I hiked up to Broadway Cave on a windy (and dusty) day. On the return trip we headed up Monument Canyon past the ruins of a miner's home stopping at the entrance to an abandoned mine. The Monument Canyon leg was largely bushwhacking up a dry draw.
Elevation Profile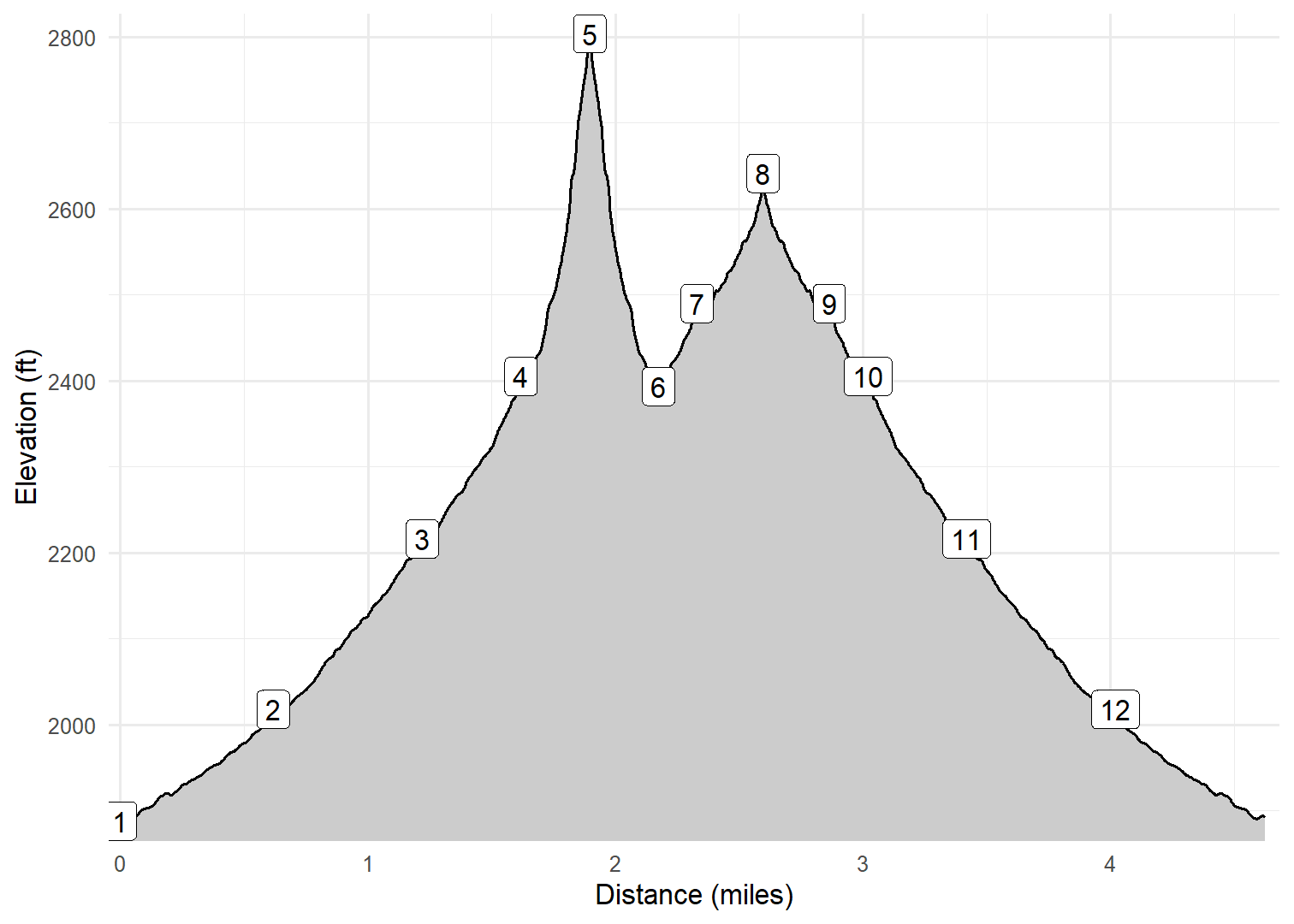 GPX Download
A sanitized GPX file of our hike is here.
Summary Information
| NUM | trackID | Primary | Description | Distance | CumDist | DeltaElev |
| --- | --- | --- | --- | --- | --- | --- |
| 1 | BCMCM01 | Broadway Cave Hike (Jacob's Crosscut Tr 58) | Broadway Ave TH to Lost Goldmine Tr | 0.62 | 0.62 | 130 |
| 2 | BCMCM02 | Broadway Cave Hike (Jacob's Crosscut Tr 58) | Lost Goldmine Tr to leave Jacob's Crosscut Tr | 0.60 | 1.22 | 199 |
| 3 | BCMCM03 | Broadway Cave Hike (Monument Canyon Tr) | start Monument Canyon Tr to leave Monument Canyon Tr | 0.40 | 1.62 | 189 |
| 4 | BCMCM04 | Broadway Cave Hike (Broadway Cave Tr) | start Broadway Cave Tr to arrive Broadway Cave | 0.28 | 1.90 | 399 |
| 5 | BCMCM04 | Broadway Cave Hike (Broadway Cave Tr) | arrive Broadway Cave to start Broadway Cave Tr | 0.28 | 2.19 | -399 |
| 6 | BCMCM05 | Broadway Cave Hike (Monument Canyon Tr) | Broadway Cave Tr to Mine house ruins | 0.16 | 2.34 | 96 |
| 7 | BCMCM06 | Broadway Cave Hike (Monument Canyon Tr) | Mine house ruins to arrive Mine shaft entrance | 0.28 | 2.62 | 151 |
| 8 | BCMCM06 | Broadway Cave Hike (Monument Canyon Tr) | arrive Mine shaft entrance to Mine house ruins | 0.28 | 2.90 | -151 |
| 9 | BCMCM05 | Broadway Cave Hike (Monument Canyon Tr) | Mine house ruins to Broadway Cave Tr | 0.16 | 3.06 | -96 |
| 10 | BCMCM03 | Broadway Cave Hike (Monument Canyon Tr) | leave Monument Canyon Tr to start Monument Canyon Tr | 0.40 | 3.46 | -189 |
| 11 | BCMCM02 | Broadway Cave Hike (Jacob's Crosscut Tr 58) | leave Jacob's Crosscut Tr to Lost Goldmine Tr | 0.60 | 4.06 | -199 |
| 12 | BCMCM01 | Broadway Cave Hike (Jacob's Crosscut Tr 58) | Lost Goldmine Tr to Broadway Ave TH | 0.62 | 4.68 | -130 |