Echo Valley Enviromental Nature Trail
Cash and I walked the Echo Valley Environmental Nature Trail near Echo Valley State Park just outside of West Union once in Summer (3-Jul) 2022 and again in Winter (25-Jan) 2023. The trail starts in Echo Valley State Park and follow Otter Creek for approximately 1.5 miles. It is an easy flat trail on an old railroad (or road). The scenery was beautiful, especially in the winter. Details are below.
Elevation Profile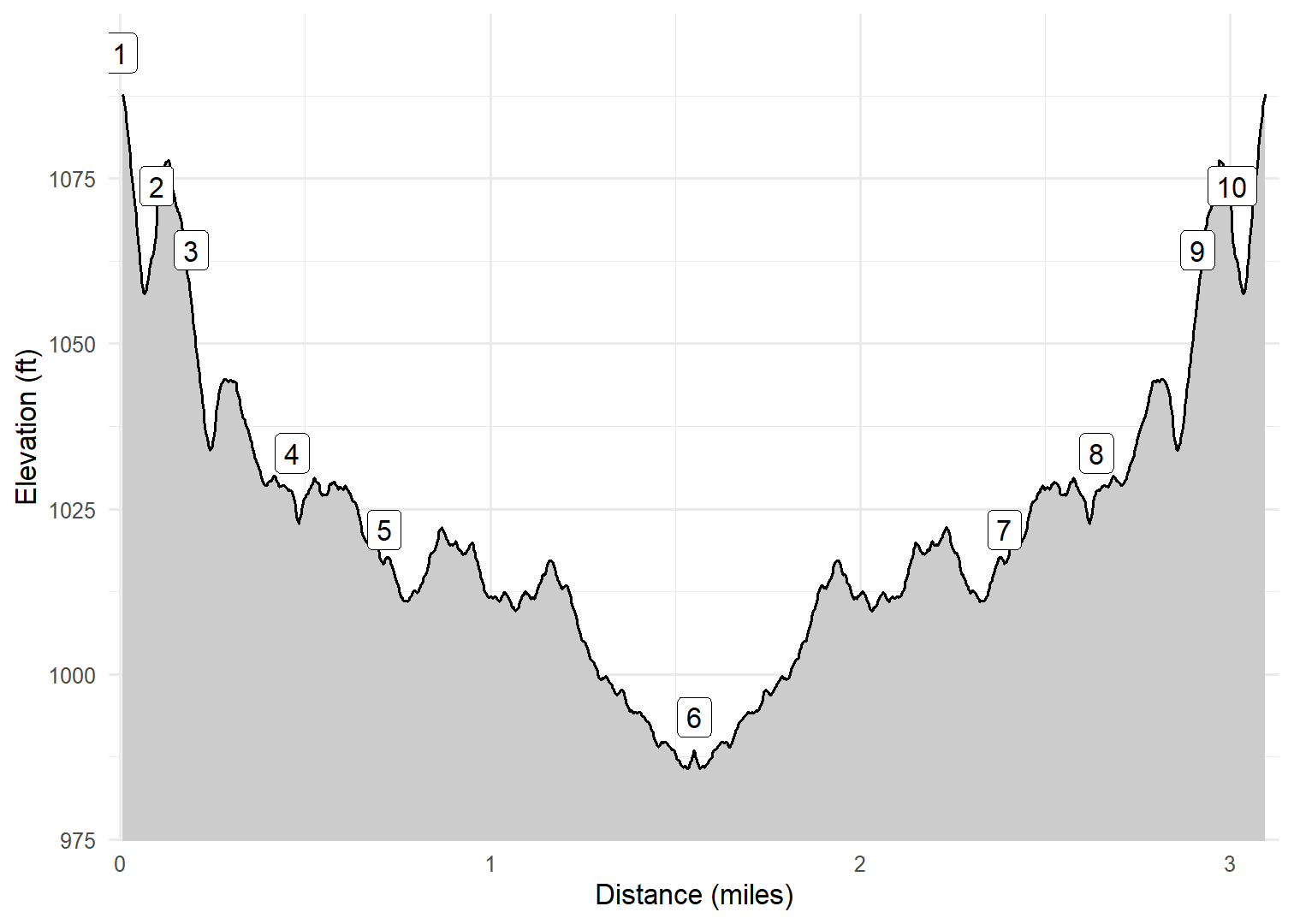 GPX Download
A sanitized GPX file of our hike is here.
Summary Information
| NUM | trackID | Primary | Description | Type | Owner | Distance | CumDist | DeltaElev |
| --- | --- | --- | --- | --- | --- | --- | --- | --- |
| 1 | EVET01 | Echo Valley Environmental Nature Trail | Parking area (near Echo Valley SP) to Echo Valley SP road | Trail | Public | 0.10 | 0.10 | -20 |
| 2 | EVET02 | Echo Valley Environmental Nature Trail | Echo Valley SP road to Unnamed trail | Trail | Public | 0.09 | 0.19 | -10 |
| 3 | EVET03 | Echo Valley Environmental Nature Trail | Unnamed trail to Glover's Creek trail | Trail | Public | 0.27 | 0.46 | -31 |
| 4 | EVET04 | Echo Valley Environmental Nature Trail | Glover's Creek trail to Picnic area | Trail | Public | 0.25 | 0.71 | -12 |
| 5 | EVET05 | Echo Valley Environmental Nature Trail | Picnic area to Parking area | Trail | Public | 0.84 | 1.55 | -28 |
| 6 | EVET05 | Echo Valley Environmental Nature Trail | Parking area to Picnic area | Trail | Public | 0.84 | 2.39 | 28 |
| 7 | EVET04 | Echo Valley Environmental Nature Trail | Picnic area to Glover's Creek trail | Trail | Public | 0.25 | 2.64 | 12 |
| 8 | EVET03 | Echo Valley Environmental Nature Trail | Glover's Creek trail to Unnamed trail | Trail | Public | 0.27 | 2.91 | 31 |
| 9 | EVET02 | Echo Valley Environmental Nature Trail | Unnamed trail to Echo Valley SP road | Trail | Public | 0.09 | 3.01 | 10 |
| 10 | EVET01 | Echo Valley Environmental Nature Trail | Echo Valley SP road to Parking area (near Echo Valley SP) | Trail | Public | 0.10 | 3.10 | 20 |